Elementor is one of the world's most popular website builders and SEO hosting providers, with its visual design tools powering the creation of more than 10 million WordPress sites.
It's easy to see why tools like Elementor are in such demand. After all, the built-in WordPress editor is perfectly fine if all you're trying to do is publish a blog post, but it struggles with anything more complex — like designing a high-converting landing page.
And until you hit the "preview" button, WordPress doesn't give you any way to see what your carefully conceived designs will actually look like.
So we're big fans of Elementor. But it's not the only option for building your website or mobile-responsive web portal.
If you've tried Elementor and didn't love it, or are simply shopping around for some other options, check out our top five Elementor alternatives:
1. BeBuilder
Price: $59
BeBuilder is part of Betheme, a WordPress and WooCommerce theme that incorporates more than 650 pre-built websites — each of which can be installed in a single click.
As a one-off purchase with a low price point, it's a popular choice for anyone looking to build a small business website.
When you buy Betheme, you get access to all of those 650+ pre-built sites, not to mention a bunch of bundled plugins, lifetime updates, and six months of free support — just in case you stumble upon a technical challenge you can't resolve on your own.
Key Features
Offers more than 3,000 importable pages that can be copied and tweaked to fit the needs of your business.
Has 100+ predefined sections at time of writing, with a content library that's constantly expanding.
Incorporates over 80 elements for customers to adjust and reposition however they want.
Newcomers to the world of web design can learn the ropes by watching Betheme's highly detailed video tutorials.
2. Quix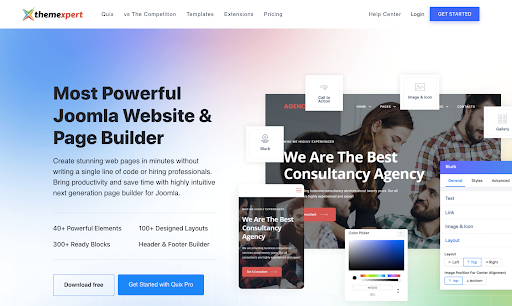 Price: From $29 per year, or $199 for lifetime access
Quix is a Joomla page builder.
For the uninitiated, Joomla is a free, open-source content management system used to publish website content across a range of applications, from ecommerce stores to forums.
In other words, that means Quix isn't a WordPress builder — so if you're absolutely sold on using WordPress, this isn't the Elementor alternative for you. But if you can get over that particular hurdle, there's a lot to like about Quix (so much so that more than 113,000 people and businesses have used it to build their own websites).
Everything within the builder is drag-and-drop-based, while live copy and paste functionality allows you to see the impact of your changes in real time.
Key Features
Incorporates 40+ design elements.
Allows website owners to design header and footer sections without requiring any coding skills or template framework.
Sites built with Quix automatically get a PageSpeed of 90+.
Offers over 100 business, education, portfolio, and blog templates that can be fully customized with zero knowledge of coding.
3. Beaver Builder
Price: From $99 per year for the first year (with a 40% discount for subsequent years)
Beaver Builder is a veteran of the WordPress page builder scene, having debuted back in 2014.
It's built an impressive reputation in that time, with its tools used by more than one million sites and trusted by huge names like GoDaddy, Crowd Favorite, and Liquid Web.
The "basic" Beaver Builder tools can only be used to build pages for individual content pieces, which means it lacks some of the functionality of Elementor Pro.
However, it offers an extension — Beaver Themer — that allows customers to build their own layouts for archive pages, template entire post types, design header and footer layouts, and create search and 404 pages. It's available as a one-off upsell for $147.
Key Features
Offers 30+ content modules, plus access to a third-party marketplace with lots more.
Has an excellent drag-and-drop builder with inline text editing.
Full theme-building functionality can be bolted on with Beaver Themer.
4. Divi Builder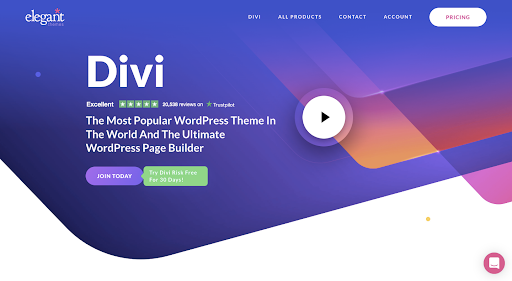 Price: From $89 per year
Just like Elementor, Divi Builder is a WordPress builder that offers plenty of scope for website owners to flex their creative muscles without requiring any technical skills.
It arguably offers more flexibility than any of the other Elementor alternatives in this article, giving users access to more than 100 full website packs and over 800 pre-made designs.
Divi is built with responsive website design in mind. Any pages built with Divi will be responsive by default. But more than that, it allows website owners to control how their website looks across multiple device types. That way, you can be sure your branding and messaging hit home, whether people have found you via mobile, desktop, or tablet.
Key Features
Offers free access to 800+ premade website layouts.
Adds new site layouts weekly, coupled with royalty-free icons, illustrations, and photos.
All content created with Divi is responsive as standard.
Gives users total control over how content is displayed across device types.
5. Brizy Builder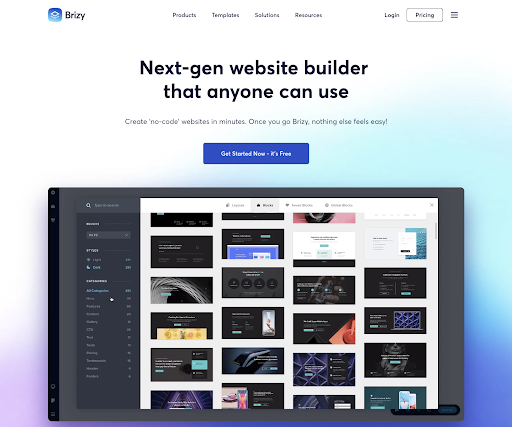 Price: From $79 per year
There's really not much to choose between Brizy and Elementor. Its pricing is similar, it has similar functionality, and it also comes with a feature-packed free version on WordPress.org — just like Elementor.
However, it does have a few unique, nice-to-have touches.
For starters, it isn't built solely for WordPress. Brizy also offers a standalone hosted website builder that's great if all you need is a simple site or a couple landing pages, rather than the full suite of WordPress tools.
Not only that, but it also leans heavily into inline editing, allowing users to edit HTML content without having to constantly switch between "edit" and "view" modes. As well as saving you a bunch of time, this makes it easier for you to visualize the work you're doing.
Key Features
Comes with more than 100 mobile-optimized website design templates.
Allows users to integrate a wide range of marketing and content apps — like Mailchimp, Vimeo, and Yoast — into their websites and landing pages.
Extensive inline editing functionality makes it easier for users to see the results of their work.
Author Bio
Ciara Byrnes spends most of her time reporting on digital marketing for an over-stressed audience of marketers and business owners trying to keep up with the fast pace of change. To center herself, she has become a wellness enthusiast, reaching "highs" like morning yoga on the porch of her family's summer lake cabin to "lows" like failing to convince herself that wheatgrass is actually yummy.