In this hyper-social world where every business is trying to leverage social media, you need next-gen social media marketing strategies to drive revenue growth.
Statista estimates that 92.1% of companies in the US are using social media marketing now. With such a high penetration, it isn't easy for social media marketers to grow followers and engagement.
Even when brands get the desired number of followers, they may not be able to drive sales through them.
If you're among any such businesses, the following top social media marketing strategies can help you boost revenue.
8 Best Social Media Marketing Strategies to Boost Revenue
Following are the top social media marketing strategies that will help you drive more customers or sales leads:
1. Use the Platforms Where Your Customers Are
The first social media marketing strategy is to be where your targeted customers are.
It's not enough to sign up for Instagram and hope to discover, let's say, B2B clients there.
Before you can set your sights on your target audience, you must identify where they spend the most time. While you may be able to be present on multiple social media platforms, doing so will be a bit too time-consuming (not to mention the cost too!).
The best strategy is to check the audience demographics on every platform before using it for your social media marketing strategy.
To get you started, I've compiled the following demographic data from a recent study by Sprout Social:
Instagram: 62.2% are 18 to 34-year-old
TikTok: 25% are 10 to 19-year-old
Facebook: 31.5% are 25 to 34-years-old
Twitter: 42% are 18 to 29-years-old
LinkedIn: 58.4% are 25-34-years-old
Pinterest: 38% are 50-64-years-old
Snapchat: 48% are 15-35-years-old
2. Work with Micro-Influencers on Social Media
Influencer marketing is among the best social media marketing strategies to drive revenue.
You can get the influencers to strategically feature your product/services in their social media posts, Reels, Stories, and any other content. Or, you can ask the influencers to use your product/service and post an honest review on social media.
A piece of advice is that you should only do this if you're confident about your product/service. You don't want your products to get roasted on the internet.
As there are several scales of influencers on social platforms, and they charge differently, what I've found so far with my experience is that micro-influencers are the safest bet.
In fact, Emplifi claims that micro-influencers boast up to a 60% increased engagement rate compared to macro-influencers.
Another influencer marketing strategy is to create referral and affiliate programs for your products/services and reach out to social media influencers to promote them.
This way, you'll get more exposure for your product, and the influencers will earn commissions.
3. Convert Brand Loyals into Advocates
But what if you don't want to spend so much money on influencer marketing?
You can employ your customers to promote your products.
If you've been in business for a while, you might already know that brand advocates are a natural way of gaining more customers.
For an example, Inc Authority start an affiliate program and make collaboration with different digital marketing consultants and companies to publish Inc Authority review posts on their websites. It help them to boost their brand awareness.
But how do you leverage brand advocacy on social platforms?
Here is an example to get you started with this social media marketing strategy:
Search for a keyword or hashtag related to your brand or maybe your product name on social media to find people who've mentioned your brand in their posts.
Let's say I want to market Trip Machine products. With a simple search for the "trip machine" brand name, I found tons of posts that have mentioned the brand.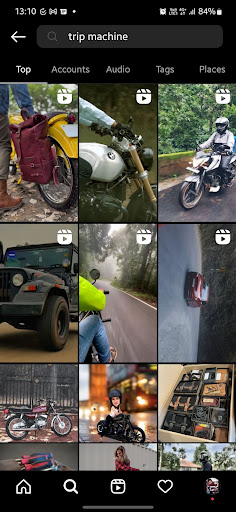 Here, I can look through the ideal users based on their follower counts and likes. Then, by offering them free products or discounts, I can ask them to endorse the company products.
4. Share User-Generated Content
Sharing user-generated content (UGC) is one of the most cost-friendly social media marketing strategies to get your followers to buy your products.
User-generated content helps you leverage the power of social proof and this can help boost your conversions. What's more, it helps you boost your brand awareness as your followers will be delighted when you share content created by them.
For instance, the following image by an Instagramer is a perfect UGC choice for the Trip Machine. The user would also be motivated as her post has been shared by the brand.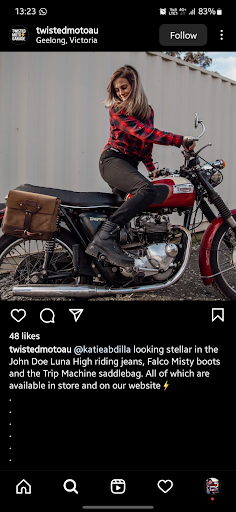 However, if your brand is new to the market and you don't have enough UGC available, start encouraging your customers to post content and tag your brand in it. Offering discounts on mentions is a great strategy to encourage them too.
5. Leverage S-Commerce
Most social platforms natively support shopping functionality. Be it Instagram, TikTok, Facebook, or even Pinterest, almost every major social platform allows brands to sell their products.
Instagram claims that nearly half of the people that they've surveyed use Instagram to make a purchase every week.
Hence, you can leverage features like product tags and product information pages to make it smooth for social media users to buy your products and boost sales revenue.
For instance, you can tag products in your Stories and posts to market them on Instagram. So make use of these techniques to ease the customer buying process and enable them to buy directly via the social platform.
6. Promote Flash Sales
Promoting your flash sales is among the best social media marketing strategies for festive season sales.
Why?
Because flash sales are excellent for driving urgency in your potential customers as most of these sales last for a short time.
You can promote your sale on your social media accounts to generate the most traffic and sales. A great way to boost your sales here would be to use social media ads as they can help you amplify your sales message.
7. Achieve Posting Consistency
The lifetime of a social media post is minutes to hours, or in some cases, maybe a week.
Hence, you should frequently post to keep your audience engaged. However, it's important to publish high-quality content whenever you publish content on social media. It's a great way to boost your brand's social media presence.
For instance, you can use a mix of images and infographics, share blog posts, and even create stop-motion videos. This could help you engage a wide audience as people with differing content tastes would engage with your brand. There are now many AI writing tools that make content creation easier than ever, too.
Make sure, though, that you don't end up publishing a lot of content as that could make your audience feel like you're spamming them.
Try out different posting frequencies and schedules to see which one your audience likes best, and then stick with it.
You can use a platform like Semrush to schedule your posts to be published at a particular time. This Semrush review by Attrock can help you to know in detail about Semrush's schedule tool.
8. Lastly, Use Paid Ads
There are millions of social media users out there.
No matter which social media platform you pick to connect with your target audience, your marketing efforts will be ineffective if your posts don't reach a large audience.
This is going to be the case especially when your brand is new. You should thus invest in paid advertisements on social platforms to gain exposure to your target audience.
All major social media platforms natively support paid advertisements to help businesses with lead generation and sales.
Conclusion
Marketing on social platforms isn't as challenging as many brands think. If you follow the aforementioned social media marketing strategies, you can achieve higher revenue and customer growth. I hope this post helps you grow your business using social media!
Author Bio: Gaurav Sharma
Gaurav Sharma is the founder and CEO of Attrock, a results-driven digital marketing company. Grew an agency from 5-figure to 7-figure revenue in just two years | 10X leads | 2.8X conversions | 300K organic monthly traffic. He also contributes to top publications like HuffPost, Adweek, Business 2 Community, TechCrunch, and more.
Social Account links: Twitter, LinkedIn & Instagram.