Ever wondered what it's like to be a successful online entrepreneur?
Imagine owning an online store that generates passive income as you spend your time doing other things. You could stay at home with your family, pursue your passions, or take trips across the country — all while your e-commerce venture pays for everything and generates a nice chunk of change.
With today's technology, it's more doable now than ever.
In this post, we offer you a cheat sheet that will guide you through the challenging e-commerce landscape. We can't promise it'll be easy, but with this guide, you should be able to navigate around every obstacle.
Let's get started.
1. Get Your Target Keywords Right
Before you attempt to launch marketing or ad campaigns, it's crucial that you get your target keywords right.
It doesn't matter if you're cooking up a strategy for SEO, PPC, email marketing, social media marketing, or just blogging — having the right keywords makes sure you reach the right people.
The good news is, there are a plethora of keyword research tools you can use for free.
Google AdWords Keyword Planner, for example, has everything you need to obtain profitable keyword ideas regardless of your niche. Simply enter a term or URL that's relevant in your niche to start your research.
Within seconds, Keyword Planner will generate a long list of potential keyword ideas along with metrics that gauge their profitability.
When performing keyword research, it's important to look beyond the average monthly search volumes and consider other factors. Smaller brands, in particular, must look for keywords within the low-medium competition bracket for faster results.
It's also important to pay attention to the intent behind each keyword idea. For example, while "leather wallets" may yield more monthly searches, the search phrase "shop mens wallets online" is more likely to be used by customers with purchase intent.
2. Invest in Content that Builds Trust
You can argue that your products are better than other brands in terms of quality, cost-efficiency, reliability, and so on. But if your customers trust your competitors more, it'll be difficult to win them over to your side.
What you need to do is invest in content that establishes your authority in your niche. This could be blog posts that help them overcome their problems or user-generated content that leverages their trust in their peers.
According to statistics, 85 percent of customers trust reviews — one of the many forms of UGC — they read online as if it's from someone they personally know.
A straightforward way to generate positive customer reviews is to automate an after-purchase email with a platform like MailChimp. When creating a campaign, select "Email" and then switch to the "E-Commerce" tab to find the pre-made automation workflow you can use.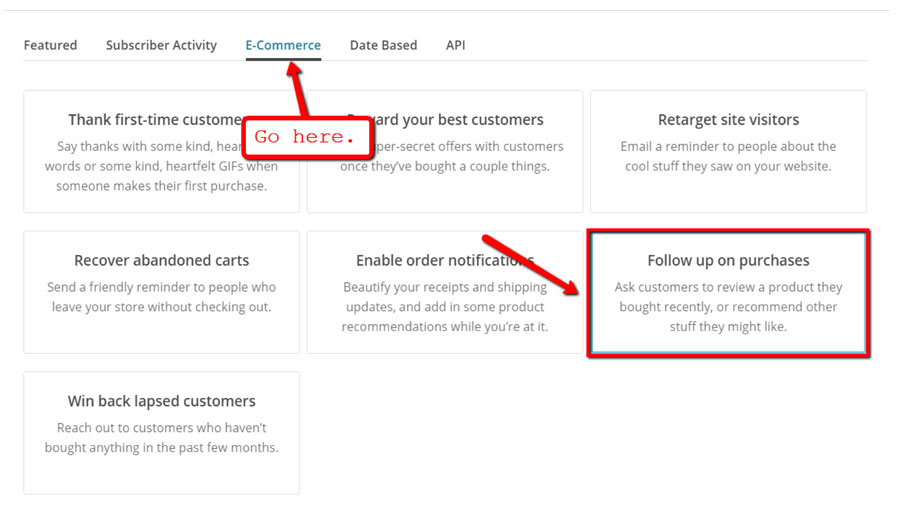 Shopify e-commerce stores are also powered by plugins that enable brands to integrate product reviews into their digital storefront. Although you can decide to manually approve comments, you should avoid fabricating reviews as it may cause you to lose your customers' trust — something very difficult to recover from as an e-commerce brand.
3. Offer a Fluid User Experience
Whether you like it or not, your website's performance is a major factor that affects your chances of converting web visitors into paying customers.
One study concludes that up to 40 percent of users would leave a website if it takes over 3 seconds to load. For an e-commerce business, that means you're missing out on a huge stream of revenue.
Certain design practices, such as picking a lightweight theme and upgrading your hosting service, are steps in the right direction. But if you want optimizations that are tailored to your website's specific needs, you can run a complete performance analysis with a tool like Google PageSpeed Insights.
After the analysis, PageSpeed Insights will present you with a list of "Optimization Suggestions" that target issues that are detected on your site. Some of these may sound too technical if you have no prior development experience, but you can immediately learn more by expanding the "Show how to fix" link beneath each item.
4. Streamline the Checkout Process
Your keywords, content, and site performance should all build up to one thing — getting the customers to the checkout process.
At this point, your only priority is to make the process as smooth and frictionless as possible. This can be done with a number of strategies:
Enable guest checkouts
Rather than requiring customers to create an account before they can complete a purchase, consider allowing them to place orders as guests. Make registrations optional and encourage sign-ups with incentives, such as discounts, freebies, loyalty programs, and so on.
Provide reassurance
To build your customers' confidence, present trust seals from security and buyer protection companies like Norton, BBB, and VeriSign. An articulate return policy will also reassure customers who are uncomfortable with purchasing products without physically inspecting them first.
Be upfront with the costs
A study by the Baymard Institute reveals that 60 percent of online shoppers abandon their carts due to high extra costs. That's why you should provide complete pricing information from the get-go and disclose extra fees, including shipping, tax, and other charges.
Offer more payment options
Another reason why customers leave during the checkout process is the lack of the payment option they prefer. The simplest way to determine the payment processors they use is to launch a survey, which can be distributed via a cart abandonment email or a website pop-up form.
Send cart abandonment emails
Sadly it is very likely that more than 50% of your customers will abandon the shopping cart and checkout process. Set up an auto cart abandonment system that reaches out to the customer enticing them back to complete the checkout process by sending an abandon cart email the contents and timing of which can be very important.
Split test
Finally, remember that e-commerce isn't an exact science. Instead of seeking a foolproof "blueprint" that can help you build a successful online store, you should split test multiple versions of your site to slowly and steadily increase your conversion rate.
Conclusion
To make money with your online business as you spend time doing what you love — that's the dream.
It may sound like a long shot at first, but you should know that there are successful e-commerce entrepreneurs out there who started right where you are now. The destination is still far ahead, but if you focus on one step at a time, rest assured that the cheat sheet above will definitely get you there and will help you avoid those ecommmerce mistakes.