A blog can be a lucrative business if you use the right social media tools to attract consumers.
Did you know, 78% of bloggers share content to maintain a connection with their audience and encourage repeat business.
Social media outlets allow you to reach out to current customers as well as attract a new audience. Maintaining a strong bond and relationship with followers is essential to the productivity of your blog.
The following must-have social media tools are needed to successfully create authentic engagement and promote your blog.
Buffer
Buffer allows you to grow your audience with a platform that involves analytics, publishing, and engagement tools. It helps you develop impressive content that you can post across all your social media platforms.
The tools provide you with insight into reaching and growing your audience and sales. You can visually schedule and plan your social media posts to drive engagement for your blog.
You also have access to helpful features such as the story planner, shop grid, first comment, hashtag planner, Instagram tagging, post analytics, and custom reports.
As a blogger, you can keep track of your analytics and learn what works best with your audience so you can grow your business fast and steady.
Stencil
Social media posts with pictures and graphics get seen more than text-only posts. Stencil provides you with the tools you need to create and design beautiful graphics to promote your blog on social media platforms.
The Stencil tool is easy to use and often used by business owners, bloggers, and social media marketers. It allows you to create images quickly and easily every time. As a blogger, you can use this tool to design superior posts that help your brand stand out from the rest.
Helpful features include 4,800,000 stock photos and royalty-free images, more than 1,200 templates, the ability to store and upload multiple logos, access to a collection of more than 100,000 quotes for your images, 3,250 web fonts for Google, 3,100,000 graphics and icons, and browser extension addons for Firefox, Safari, and Chrome.
Instasize
Instasize is a mobile photo and video editor that allows you to apply vintage effects and 130 filters to create professional style social media posts. You also have access to other tools including overlays, layering, Unsplash stock library, resizing, text styles, borders,, web stories, editing tools, magic fill, and beauty touch-up tools.
As a blogger, you can use Instasize to edit and size all of your photos and videos to create a brand aesthetic that can help you build trust with your audience.
Unsplash
Unsplash provides you access to free professional photos that give your posts a polished and professional look. As a blogger, Unsplash will become your go-to trusted place for quick content when you are in a rush to post.
You can find a variety of photos on Unsplash in the following categories, nature, architecture, people, fashion, experimental, health, wellness, film, fashion, interiors, current events, technology, street photography, travel, textures, history, arts, culture, spirituality, food, drink, animals, athletics, and business.
Bulkly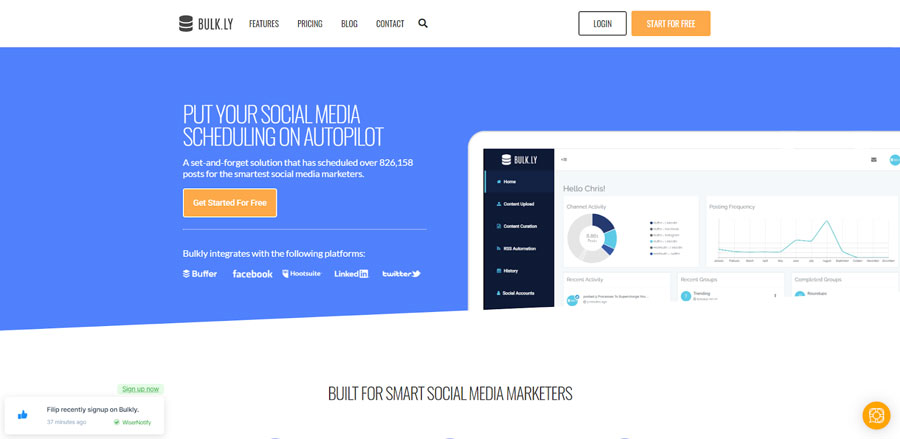 Managing social media messages is an overwhelming task but it's a job that needs to be done. Bulkly allows you to effectively manage messages with powerful status update creation tools including, flexible scheduling options, CSV uploads, create posts from RSS feeds, import previous posts and more.
As a blogger, you can use Bulkly to automate the process of creating status updates for your blog content. Simply use your blog RSS feed and Bulkly will automatically create and send status updates to your social media accounts.
Promoting Your WordPress Blog
Promoting your blog involves a variety of marketing initiatives aside from social media marketing.
Among some of the most common tactics are guest posting to build awareness, partnerships, optimizing your content for SEO and leveraging email marketing to maintain the interest of your audience. Regardless of what approach you take, make sure you are measuring your results.
But in the end you need to start somewhere, and launching your blog on social media is one of the easier ways to drive attention and traffic to your blog. Simply posting a few times a day on your social accounts and engaging with others is the foundation to building blog awareness on social media.
Luckily you can use social media tools to accomplish this. Simply find the tools that work best for your specific needs and preferences and you'll be on your way to successfully promoting your WordPress blog.
Author Bio
Since 2003, Chris Makara has developed a broad digital marketing background with a focus on SEO, Social Media, Automation and Analytics. He is the founder of Bulkly, a social media automation tool for individuals and small businesses.