There are many ways to drive traffic to a landing page. You can pay for clicks, get organic posts going on social media, send out newsletters and pay for ads. All the work of getting people to your website doesn't do you much good if you don't captivate them from the minute they land there.
Wordstream took a look at thousands of Google Ads to get an idea of the average conversion rates across industries. The average conversion rate was 2.35%, but some convert much higher.
While your landing page's success may depend upon your industry, there are many things you can do to ensure yours stands out. Here are eight essential elements to a stellar one, as well as some examples of what works.
1. Present Your UVP
Each brand has a unique value proposition (UVP). You must study competitors and find out how you can be different. What thing do you do better than anyone else? Perhaps you offer products other brands can't get. Maybe you have the best customer service around. Know your UVP and share it on your landing page.
LegalShield has a UVP of offering affordable legal help. They state this right in the headline of their site. They also break down some bullet points about how the process works.
2. Create a Buyer Persona
It's hard to know how to capture attention if you don't know who you're speaking to. Figure out who your typical customer is and create a buyer persona to represent them. You should then personalize your page to the tastes of the mock customer.
3. Focus on the Aesthetics
People love beautifully designed pages. If they land on your site and your page is ugly, they may bounce away. Users do form first impressions based on the overall look of your site.
Clean, simple lines and beautiful images never go out of style. You can change other elements on your page but stick with the basics for a user-friendly site.
Alpha Genesis uses bold images of some of their projects to draw in the user. You'd expect nothing less than brilliance from a design firm, and they deliver. The hero shot on their landing page uses repeat shapes to offer a beautiful, geometric look. It pulls the user into the picture and makes it three-dimensional.
4. Use the Area Above the Fold
Even though every section of your landing page matters, put some extra focus on what lies above the fold. These are the elements folks see when they land on your page. What is the most critical information, and how can you place it where users find it fast?
You may need to play around with placement a bit. Try different combinations and split test each one to see what resonates best with your target audience.
5. Add a CTA
Your call to action (CTA) can make or break your conversion rates. Look for ways to make it stand out by contrasting the color with the rest of the page. Think about where you'd like to place it, so it draws the user's eye.
The language you choose for your CTA should use active verbs. Keep the command short and to the point. Let the user know what they'll get if they click on the button.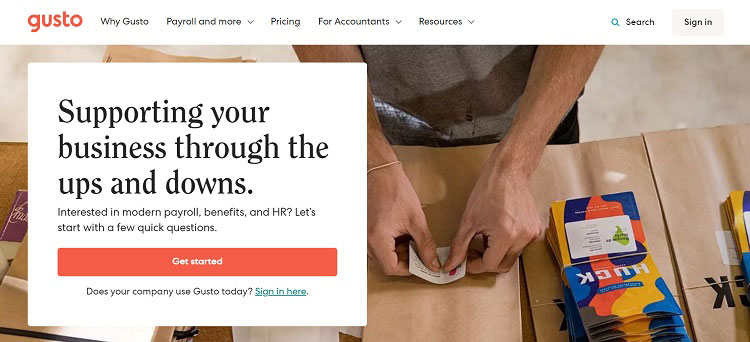 Gusto uses a bright orange CTA that pops against the white background in the box. The user's gaze immediately goes to the button. Even the photograph draws attention to the CTA. The person's hands are right next to it. Note how the CTA appears above the fold and uses simple, active language.
6. Have a Single Objective
What is your goal for the landing page? When someone lands on the page, you may want them to share their contact information, view a video or make a purchase. Once you understand your objective, it's much easier to present your offer. You should also cut anything that doesn't move the buyer toward the target.
7. Share the Benefits
Your experience and brand story are essential. However, when someone seeks a solution to a pain point, they just want to know how your product or service benefits them. How do you fix the issue better than anyone else?
Take the time to list out the benefits of doing business with you. A relevant photograph, bullet points and headlines all work together to showcase what you can do for the client.
Mercari is one of many online sales sites people can use. They focus on the benefits of using their service with keywords such as "declutter." They also offer a direct link to some of their top categories.
8. Use Visual Cues
Each image on your page should point the user toward the CTA. You can use arrows, photos
with people looking or pointing toward the CTA and even lines to connect elements to the action you want users to take.
Typography is also a helpful tool. Take action words and turn them into art, sprinkling them in key locations to draw user attention.
Test Your Page
As you make changes and work on perfecting your landing pages, take the time to test each page thoroughly. Split testing shows which elements work best with your particular customers. Don't be afraid to ask for feedback. Make tweaks until you hit the conversion rate you want. Perfect landing pages take time.
Author Bio
Eleanor Hecks is editor-in-chief at Designerly Magazine. Eleanor was the creative director and occasional blog writer at a prominent digital marketing agency before becoming her own boss in 2018. She lives in Philadelphia with her husband and dog, Bear.