It's common knowledge in marketing that your brand is not what you say it is, but what your customers say it is. You can spend thousands on presenting your idea of what your business represents but, ultimately, it's the people who will decide.
This makes online reviews one of the most powerful forms of advertising available. They cut through marketing tactics and get straight to the word-of-mouth concept that people actually trust.
A recent survey conducted by BrightLocal indicates that 90% of US-based consumers read online reviews before visiting a business and 85% trust them as much as personal recommendations from family and friends.
In fact, almost three quarters will only make a purchase from a new business after reading a positive review and 9 out of 10 are hesitant to buy from companies with negative ones.
In the digital age, both good and bad news about your business travels fast. So, encouraging positive reviews should be a top priority for all businesses.
In this blog, I'll outline 5 of the most effective ways you can use to act on these stats and build your online customer reviews.
Ask for them
It might sound overly simplistic, but if you don't ask you don't get.
Surprisingly for some, 70% of customers are willing to provide feedback when a business asks for it. But most still don't.
Make sure you build a workflow that automates review requests into your customer's purchasing journey. A well-placed email can dramatically increase the number of reviews you generate.
At what point in the journey you should ask, will depend on the type of product/service you offer.
For example, asking immediately after service completion works for companies like Uber because their service is discrete, meaning once it's over, it's over. They need to ask when the experience is fresh in a person's mind.
But, if you're selling products like electronics, you should wait until a few weeks after it's delivered or purchased before requesting reviews. Why? Because people will want to spend some time putting your product to good to use before committing to an opinion.
Ask the right way
As well as being well-timed, your request needs to be presented in the right way.
Your customers won't respond well to direct demands. Rather, you should first get them thinking about their recent purchase by asking an open question like "Are you enjoying your new [product]?".
This approach reminds your customers about their experience with your product or service, priming them to write more accurate and vivid reviews.
This approach also gives you the chance to avoid negative reviews by offering unhappy customers some resolution before sending them to a review platform.
If your prompt is via email, use your open question to request a form of rapid feedback that only your sales team sees, such as a simple, in-email 5-star rating system, much like Amazon's.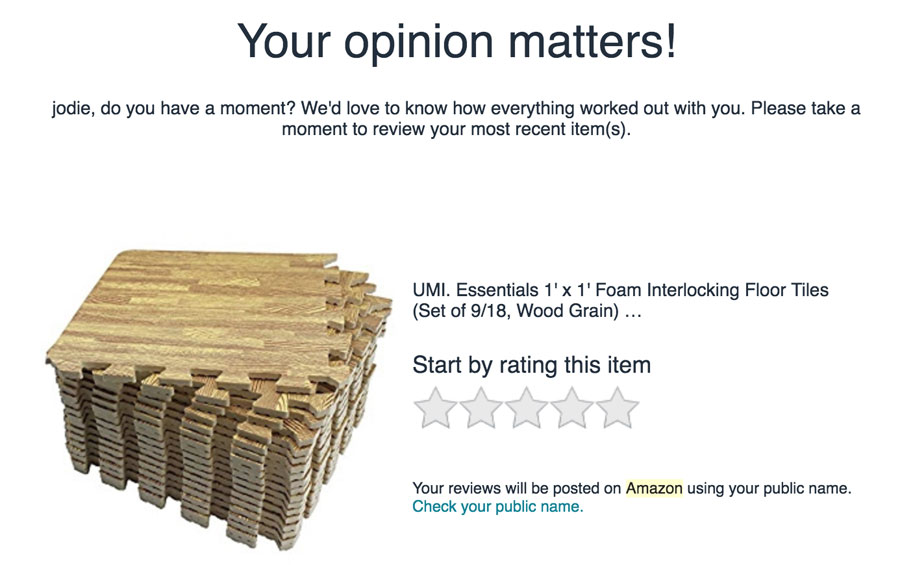 You can redirect customers who score below 4 stars to your resolution system and only ask 4 and 5 star reviewers to expand on their view.
Some points in your customer workflow are also more effective at generating positive reviews, for example:
Directly after their purchase (if it's a service)
In an email confirming the delivery of your products
When they re-purchase from you
After they've tagged you on social media
When they refer someone else to you
Offer incentives
Depending on what you sell, writing a review can take a fair bit of your customer's time and effort.
Many are hesitant to give a business their time for nothing. But you can win over the hard-to-get by offering discounts off future purchases, vouchers and gift cards, or free entrance to a prize draw that offers a much more substantial pay-off.
Promoting these incentives through your social media channels and website, as well as directly to recent customers in your sales workflow is likely to tempt both new and older customers to your review platform.
Use multiple channels
The variety of places you could host reviews will depend on your sales channels and industry. But a survey by ReviewTrackers offers some insight into where US-based consumers tend to go to do their pre-purchase research.
Source: https://www.reviewtrackers.com/reports/online-reviews-survey/ (2017-2018)
Their statistics suggest that global powerhouse Google is, perhaps predictably, also king of online reviews.
It's always good practice to go where the people are, so use channels that people are most likely to look at to get the measure of your company. Doing so will increase the benefit your business gets from investing in cultivating reviews.
To enable reviews on the major search engines like Google, Yelp and Bing, you need to set up a business account and register your details with each.
Some social media channels, like Facebook, allow people to leave you reviews and, conveniently, you can request these through their Messenger feature.
Wherever you decide is best for your audience, link to that channel in your review requests and make it as easy as possible for your customers to follow through (e.g. ensure redirection requires only one click-through).
Share existing reviews around
People are much more likely to do something if they see others doing it first. Generating social proof has always been an important marketing tactic and it's one that's also applicable to generating online reviews.
You should always:
Include recent reviews from other customers in your email or any other communication where you make review requests
Share your latest positive reviews on social media
Use plugins to pull reviews from across the internet to your website
Bonus tip: if you're going to direct a lot of reviews to your website, make sure your web hosting plan, whether free or paid, offers enough bandwidth to support the additional data without slowing down your site. Otherwise, you'll be giving with one hand to take away with the other.
Key takeaways…
Online reviews are a powerful marketing tactic that continues to pay off for your business long after you've put in the effort to get them. But, while encouraging online reviews is a shrewd business move, doing it badly may end up doing more damage than good. By following these simple tips, you can bring in the reviews your business needs to get seen for the right reasons.
Do you have an expert tip for generating online reviews? Let us know in the comments below.
Author bio
"Jodie is a Conversion Copywriter, Content Strategist and Optimisation Specialist working with bold B2B SaaS and marketing brands. Before founding This Copy Sticks, she's spent a decade selling the toughest value proposition around and raised £2 million for charities before her 25th birthday. After 10 years convincing the public to embrace their inner altruist, Jodie now puts her words to work helping tech-mad trailblazers grow their businesses."
Links
https://www.brightlocal.com/research/local-consumer-review-survey/
https://searchengineland.com/70-consumers-will-leave-review-business-asked-262802
https://www.reviewtrackers.com/reports/online-reviews-survey/
https://www.ukwebhostreview.com/free-web-hosting/