When you're on a shoestring budget, marketing your online business can be a bloody mess.
The fact is, you can't hope to compete against big corporations if you're going to play by their rules.
For you to even have a fighting chance against your competitors, you need to employ guerrilla marketing tactics. It's through these that you'd be able to infiltrate hidden audiences — the ones that your competitors haven't targeted yet — that are willing to open their wallets for you.
(Oh! You need patience, too. You need A LOT of that, actually.)
Allow me to share with you five effective digital marketing strategies you can use even if you're on a shoestring budget.
1. Get tons of qualified traffic by targeting long-tail keywords
If you're a bootstrapping your business, you can't hope to compete against large corporations. They run authoritative sites that publish truckloads of content.
You, on the other hand, cannot.
If you want to drive qualified traffic to your website from the search engines, you need to go a different route. You need to target long-tail keywords instead.
To come up with a long list of long-tail keywords to use for your campaign, you can do some brainstorming. However, why rack your brains for keyword ideas when you can use a free keyword research tool instead?
One such keyword research tool is Ubersuggest. Not only is it reliable and free, but using it is a breeze.
To start your keyword research, head over to the site. Enter your seed keyword (let's use "ergonomic chairs" in this example) on the search box, specify the location, and then click "Look up."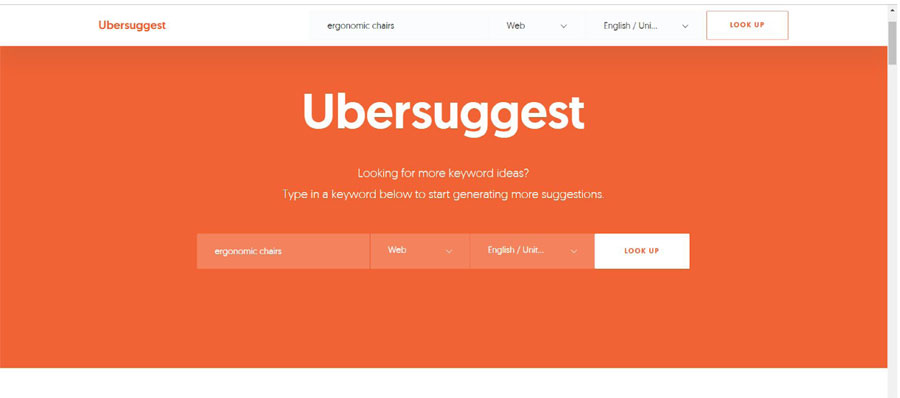 Ubersuggest will then present you hundreds of keyword ideas in an instant. In our example, we got a total of 836. (Not bad.)
As you can see from the screenshot above, Ubersuggest not only generates hundreds of long-term keyword variations, it also provides key traffic data such as Search Volume, CPC (cost per click), and Competition (level of competition).
Ideally, you should target keywords with high search volume and low competition. This can get tricky. For one, big companies are always targeting high-volume keywords, increasing the level of competition for those phrases in the process.
But if you look hard enough, you may be able to find relatively low competition keywords with a search volume that's just high enough to provide you better conversions.
There are numerous ways to refine your list, but the most important thing to keep in mind here is intent. In our example, you're looking for prospective buyers, so you'd do well to target keywords with high commercial intent.
To generate high commercial keywords, you can enter transactional terms such as "buy" and "cheap" in the Filter Results field located on the left side of the page.
As you can see from the screenshot above, the competitiveness rating of our keyword results is not as low as we'd like. "Best buy office chairs," "buy office chair," and "where to buy office chairs," however, have high enough search volumes that it's still a good idea to add them in our long-tail keyword list.
If you find yourself stumped for long-tail keywords, just enter your seed keyword ("ergonomic chairs" in the field box again, pick long-tail keywords that are relevant to your campaign, and then refine your list further by applying keywords with high commercial intent.
2. Use email marketing to your advantage
Despite the popularity of social media over the years, email is a platform we still use every single day.
As such, it's in the best interests of every business owner to leverage the power of email marketing to grow his brand's audience and boost ROI.
So how effective is email marketing? For starters, it can help you grow your business in more ways than one. It can be used for lead generation, lead nurturing, selling premium products and services, and cross-selling.
By collecting email addresses from qualified leads using a lead magnet, you are provided the opportunity to engage, educate, and inspire your target audience on a regular basis.
Email marketing can be a wieldy task, but thankfully, you can rely on automation tools to optimize the entire process for you.
Even with a shoestring budget, investing in a good email marketing tool shouldn't cost you an arm and a leg. Email marketing tool providers generally offer a 30-day free trial and then charge between $10 to $40 after the trial subscription expires.
3. Use Social Listening to Increase Awareness for your Brand
Your target audience is out there, and the only way you can reach and engage them is to use every online resource available to you.
Here's one thing you can count on about your target audience: they will always talk about things that directly or indirectly relate to your brand.
If you want more opportunities to engage them, you have to keep your ear on the ground (so to speak).
It's not as difficult as it sounds. In fact, there are a plethora of social listening tools that can optimize your social listening strategies.
Tools like HootSuite, for example, can provide you real-time updates for each instance that your brand is mentioned on social media.
At the same time, these tools also come with features that help you engage with those who are mentioning your brand, allowing you to respond to every customer complaint as they arise.
The best part? There is no shortage of affordable social media listening tools on the web.
Thanks to social media listening tools, you can correct misconceptions about your brand and build your business's reputation even with a limited budget.
4. Create Data-driven Infographics
Data is everywhere, so much so that we're drowning in it.
But data or statistics are only useful if you know how to interpret them and derive actionable insights from them. As a business owner, you'd want to consolidate all that information into a comprehensive report or presentation.
Enter Infographics, an effective tool that does just that. If you want to present complex information and figures in a simplified and visually appealing manner, Infographics is a cost-effective marketing tool that you can count on.
You don't even have to be trained in graphic design or media arts to use it effectively. With the help of a free tool like Canva, you can create a slick infographic in minutes.
After signing up for a free account, go to the "Create a design" page and then click on "Infographic."

You'll be taken to an empty dashboard where you can build your infographic using the tool's extensive list of layouts, visual and text elements, and backgrounds. By using the tool's full set of customizable features, you can present all relevant data in an appealing and more impactful way.
Once you're satisfied with your infographic, you can use the tool's social media buttons to share it online, whether it's for a guest post, a blog post, or on Facebook.
By presenting your ideas through a visually-appealing medium, you can boost brand awareness and grow your audience with little effort. It's also one of the best ways to show that you are an expert on a particular subject.
Additionally, infographics have a viral nature that entices people to link to your site. As a result, your site will rank higher in Google searches. And that is always a good thing.
5. Optimize Your Website's Performance
Always remember that your website is the official, digital extension of your business.
You want it to reflect your brand's standards in terms of service, dependability, and customer friendliness — not annoy users by being sluggish or with constant crashes.
Fortunately, most website platforms like WordPress, Joomla, and Wix have been consistently stable and secure. What you need to focus on, however, is your website's loading speed, which can make or break the user experience on your website.
A great first step is to run a quick analysis of your website's performance with a tool like Google PageSpeed Insights. After entering your URL, simply click "Analyze" to have the tool scan your site for anomalies: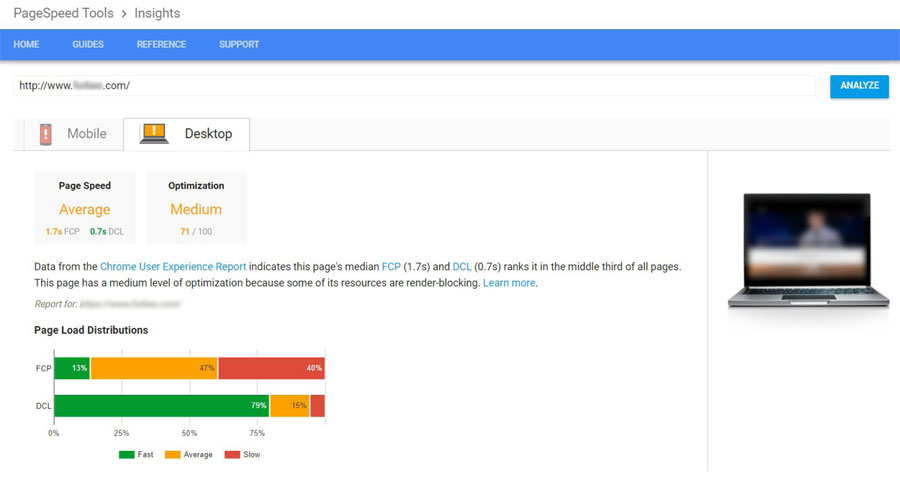 Doing so will allow you to zero in on the performance-related issues you may have overlooked on your website. More importantly, PageSpeed Insights will also generate a list of suggestions that will help you address these issues and improve your website's performance.
For website owners who have no prior web design or development knowledge, most of these optimization suggestions may be unfamiliar to you. But regardless of experience, they are more than doable as long as you can acquire the right tools and resources.
Image optimization, for example, is a great way to give any site a significant boost in speed without having to write a single line of code.
With tools like TinyPNG, Kraken.io, and Compressor.io, you can easily apply lossless compression to your images, which will reduce their file size without any noticeable differences in quality.
If you use WordPress, you can also automate the process of image optimization with a plugin like WP Smush. Other optimization processes, like code minification, browser caching, and GZIP compression, can be expedited with the use of plugins as well.
Lastly, another strategy you can use to speed up your website is to use a Content Delivery Network or CDN to optimize the transfer of web data to multiple locations around the world.
A CDN is a network of proxy servers, which are tasked with storing and transferring cached website data to nearby users — reducing latency and adding an extra layer of protection against DDoS (Distributed Denial of Service) attacks.
6. Position yourself as an industry expert
If you want to stand out from the rest of the competition, you have to establish yourself as an expert in the industry.
The reason couldn't be more simple: People who are in need of something are naturally inclined to follow and listen to those who know what they are talking about.
So learn as much as you can about your niche. Use every available educational resource out there (podcasts, online courses, articles, etc.) to gain more knowledge and skills about your chosen industry. Additionally, you have to keep an eye on every new information and technology that will help you gain the competitive advantage.
By writing insightful blog posts and recording informative vlogs and podcasts, not only are you providing real value to your target audience, but you're also positioning yourself as a thought leader in your niche, thus creating a big buzz around your brand.
Conclusion
There you have it — these digital marketing strategies can help you grow your business even with a minimal budget.
If you're willing to put in some elbow grease in your marketing efforts every step of the way, there will come a time when you'll be surprised when your budget has ballooned. By then, you'll have more investment opportunities that can catapult your business to new heights.